Posted on July 2nd, 2014 –
Be the first to comment
Though there's still no indication of this on their website, The Grid TO's last issue will be tomorrow: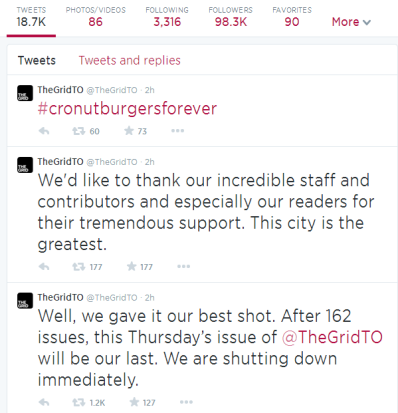 What makes this sad news is what appears between the lines:
"It's a tough time, a really tough time," Turnbull said in an interview.
"The media landscape continues to be impossible for a start up," he said, calling The Grid a victim of timing.

Launched on May 12, 2011, three years after the Great Recession, Turnbull said, "nobody anticipated how dramatically print and online revenue would continue to decline after 2009. We all thought it would be a gentle landing. Instead, it's been violent.
"If the Grid had launched eight years ago instead of three, there's no question it would be a roaring success," he said.
In other words, independent journalism (even when backed by a media giant like Torstar), is a real tough sell today (no small thanks, I'm sure, to when they're dismissed or attacked by corrupt leaders).
Filed under:
Dispatches
,
Patrick Bay
,
Pictures